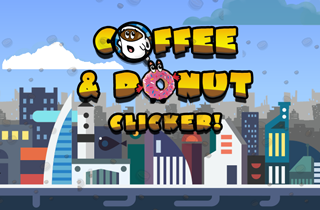 Coffee and Donut Clicker
See more...
What's better than Coffee and Donuts? Playing Coffee & Donut Clicker, of course!
Play as both Coffee and Donut as you swipe, tap, and tilt your way to the top of the leaderboards! Coffee and Donut Clicker is a quirky, unique spin on incremental clicker games. With multiple, progressively challenging ways to play, you'll soon develop your own strategy on how to collect the beans as quickly as possible.
Race to the finish as many times as you can to unlock unique extras and submit your total number of completed games to the leaderboard. Don't forget to spend the beans you've collected on items that increase your bean collecting power.
We hope you'll enjoy playing Coffee and Donut Clicker as much as we've enjoyed bringing it to you.
Coffee and Donut Clicker is out now and available on the App Store for iPhone* and Google Play!
Download Coffee and Donut Clicker today and play for free!


* Designed for iPhone. iPad version coming soon!